THE EASY WAY TO TRANSITION FROM
2D CAD TO 3D BIM
Architect of 30+ years, Mark Wilson, regarded the QARC Systems Templates so highly he did a Remington. "I loved it so much I bought shares in the company!" Mark's story about moving from the drawing board to computer is one that many Architects and Designers can appreciate. Moving with the future is a challenge that he suspected he would never be able to fully embrace without help. Its not as easy as simply "buying the software", there is a massive learning curve and as Mark constantly repeats: "If you're learning, you aint earning!
Until now…
QARC Systems was born out of this frustration. Knowing you had to accept that designing in the future required the adoption of complex software but not having the time or resources to properly learn how to use it. In Mark's case, he sat on his Revit subscription for a few years until he met Peter Latemore who had developed a template system for his staff, to ensure they could use the software and cover all documentation needs without having to pester him with questions. Mark embraced the template system in his own work and the light bulb moment happened. I am learning as I am earning! And thus QARC Systems was born. Read the e-book here: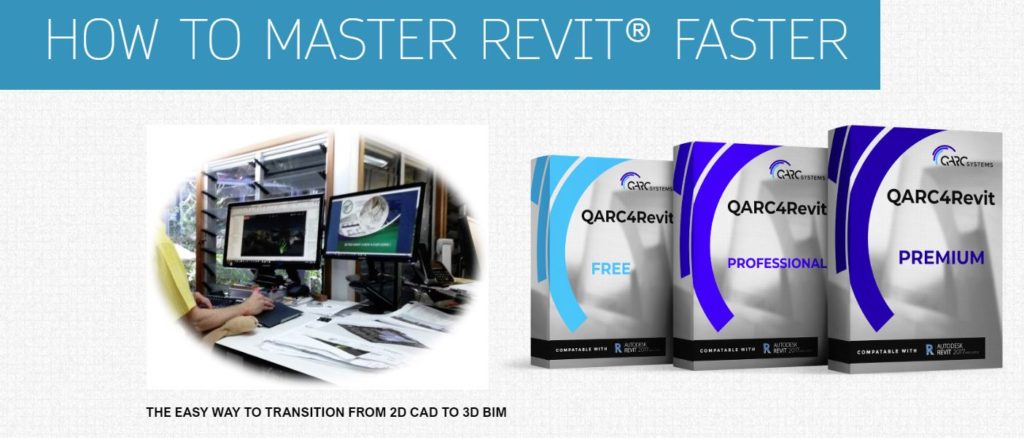 If you are considering a move to Autodesk Revit, then you should read Mark's e-book on "How to Master Revit Faster". It describes his journey from the board to CAD programs, and how QARC4Revit allowed him to properly use Revit immediately, thus learning how to use the program while actually using the program!
A quick look at the rest of this website will give you the clues as to how it will increase productivity, save time, provide drafting standards across your office as well as training junior staff. The product pays for itself in about 2 weeks of single user application, so the rest of the year is spent being far more profitable than you would have been.
As for Mark, he has learned so much through the application of the QARC Systems template, that he now tests and improves the product, works on R & D and engages manufacturers to entice them into being on the QARC Systems Revit plugin.
Click on the "I Want QARC" tab to download the free plugin and begin accessing free BIM content and a simple template. Upgrade to the Premium or Professional template system to begin using Revit immediately. Preview the System here: https://qarcsystems.com.au/product/