01 QARC4Revit –
Introduction
Quick introduction to the QARC4Revit plug-in. 0:24
02 QARC4Revit –
Views + Sheets + BrowserOrganisation
An overview of the ARChetype template's Browser setup. 1:32
QARC4Revit is a support system for Architects and Building Designers who use Autodesk Revit©
It boosts a practices ability to produce quality design, documentation and saves your practice time and money. It is a Plug-in sitting wholly within the Revit environment.
The QARC Revit template system makes it possible for every Revit user to efficiently model and consistently produce quality documentation.
What is included?
Professional and Premium Templates inserted into Revit to project the user into advanced application of the documentation side of the software
Templates have all sheets, legends, schedules, symbols, annotations, linestyles, dimstyles etc pre-loaded for immediate application
Simple notes to the side of the sheet inform the user how to use that sheet exactly
Professionally created and functional titleblocks to choose from or have the QARC team create
Check sheets to ensure all team members apply drafting principles to ensure QA protocols
A companion for easy reference to the finer details about the QARC4Revit system
Quality content made for Australia/NZ conditions, with BIM information, materials and assets, delivered direct to project from the cloud
WORLD FIRST! The QARC4Revit plug-in can deliver System Families – walls, floors, roofs, ceilings, railings, stairs – complete with assets and materials.
Why is it valuable?
The QARC4Revit system has been developed over many years by Design industry professionals who know what a Design and Documentation team need to achieve from their software
The template system would cost over $10,000.00 in house to set up, not to mention the years of learning and expertise costs associated with developing such a tool
Having an effective template is crucial to any practice seeking to streamline workflows and become more profitable
This template is foolproof and when combined with the check sheets, can not only ensure continuity across your practice, but teach your junior staff how to use Revit to draft effectively
The QARC4Revit template dovetails with the content delivered from the cloud to respond to schedules
QARC Systems content is delivered with materials and assets to expedite the population of schedules and for instant renderability
The whole system combined will save each user considerable time every day. If it saves you 1 hour every day, the system will have paid for itself in 1 month and will be making you the same in profit for the other 11 months.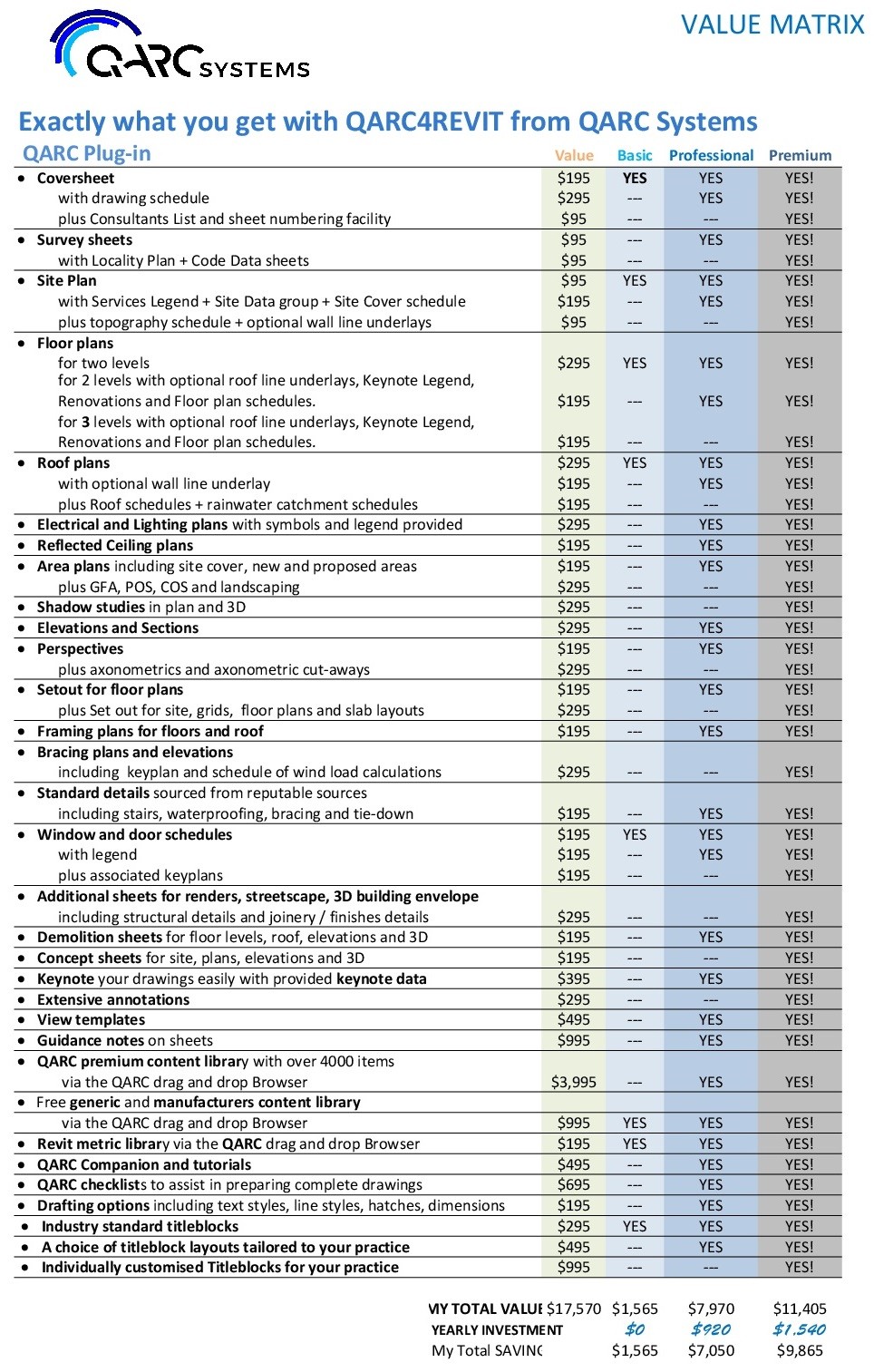 By Designers, For Designers
Our mission at QARC Systems is to enhance the documentation services to the Australian and New Zealand markets. We are interested in building a communal library of Autodesk Revit ® content and to provide a comprehensive template system to provide a framework under which Design practices can:
Access professional BIM content for Autodesk Revit ®
Drag and drop Autodesk Revit ® families direct to project from the cloud
Use Autodesk Revit ® more efficiently
Improve your ROI (return on investment) from Autodesk Revit ®
Quality assure your documentation across your office
Teach your junior staff how to properly apply Autodesk Revit ®
Our Autodesk Revit ® QARC4Revit Plugin inserts a content delivery window that can be docked with your properties browser, giving you access to a continuously growing library of content, all schedulable and suitable for the Australian/NZ markets. All our content is completely renderable which will save you time in creating realistic 3D views. Download the free Plugin now to access the library of free Autodesk Revit ® BIM content and a basic template. Purchase our professional version of Autodesk Revit ® Template system to leap you forward into Advanced Revit use and professional Autodesk Revit ® BIM content. Or purchase the Premium version of the Autodesk Revit ® Template system to access all the technology this complex software can deliver. Note: QARC4Revit requires full Revit, RevitLT cannot host plug-ins.
WORLD FIRST: DRAG AND DROP COMPONENT & SYSTEM FAMILIES WITH ALL ASSETS AND MATERIALS ATTACHED!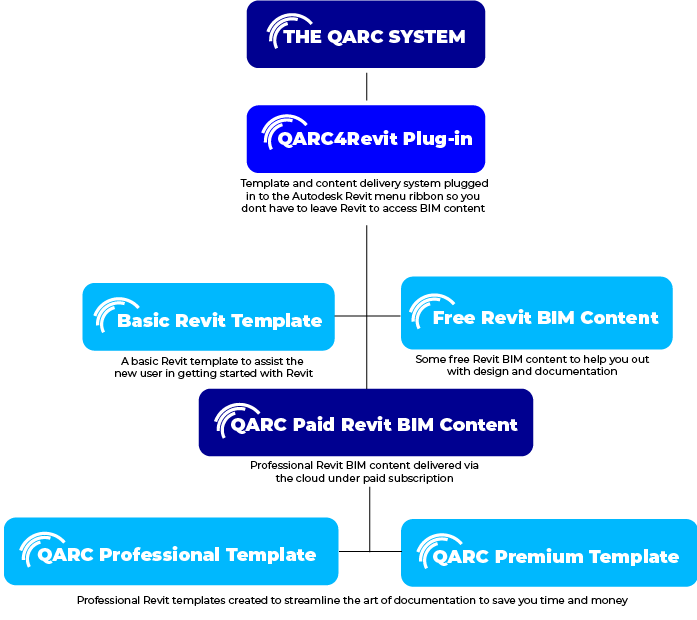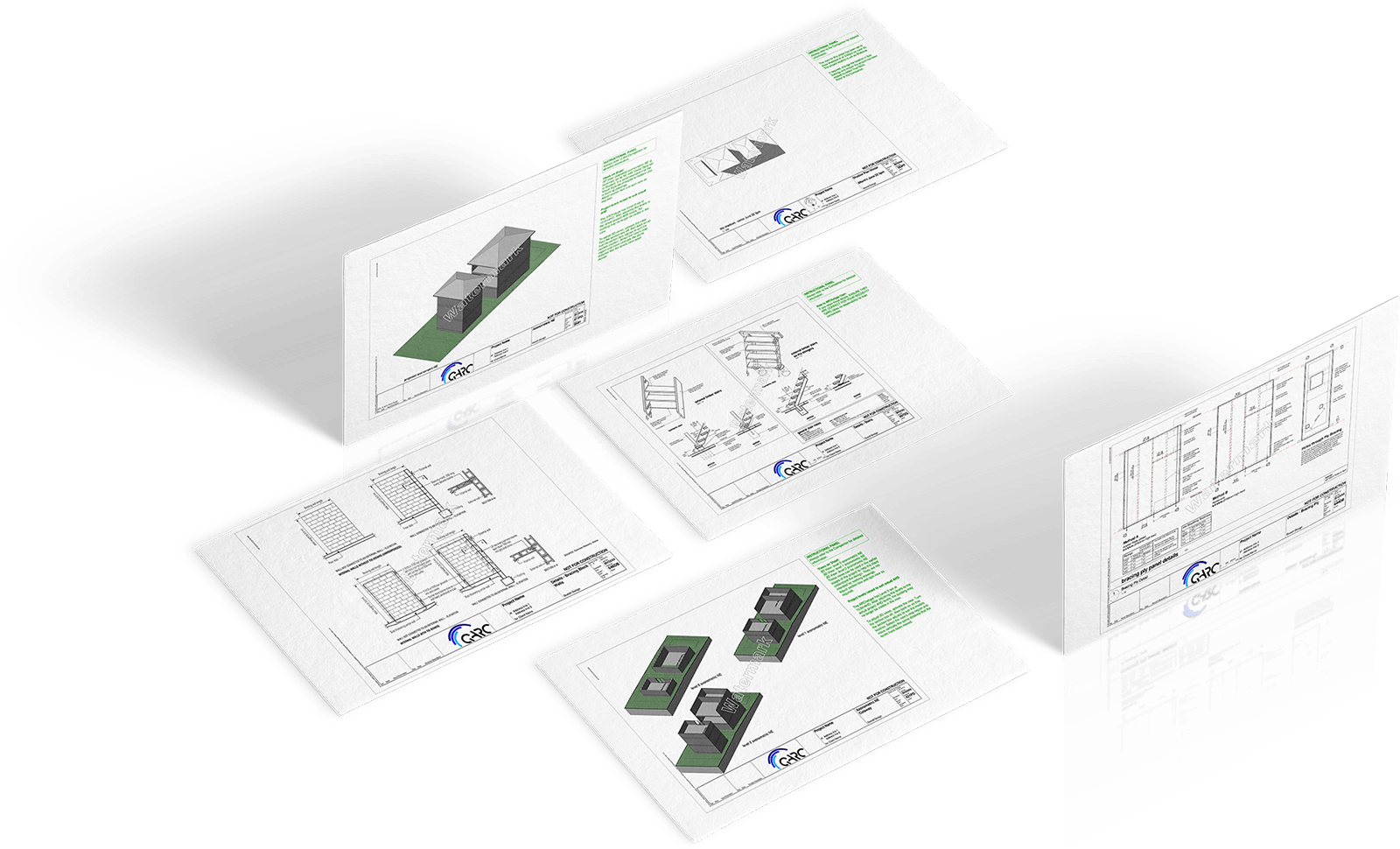 QARC4Revit Introduction by Founder
Peter Latemore, Founder of the QARC4Revit plug-in introduces said plug-in and its features.