This is a revised copy of the email sent out to our valued users this week.
We are transitioning to a new Point-Of-Sale (POS) system as part of the process for officially launching the QARC4Revit plugin.
We are migrating our mechanism for user authentication and identification within the plugin from only A360 usernames to a more secure and reliable username-password methodology based around our new POS system.
As part of this process, we need you to go to our newly christened webstore, (located here). The link is to the account creation page.
Please create an account, filling in all the required information, and click "Create Account". One of the required fields is your A360 name, so we can migrate you over. We will be made aware of your new account sign-up and we will link your previous entitlements to your new store accounts.
All users need to do this, not just the account holder.
It is important that you complete this process before Monday the 22nd Oct 12pm, as this is our target date for deploying the new 1.2 core components of the QARC4Revit plugin. If you do not, QARC4Revit will not load!
On the 22nd, via your Revit you will receive a notification that there is an update available for your QARC4Revit Plugin. This is the same as other times we've updated the software. Once the plugin is applied, at next start of Revit, you will be prompted for the username and password when you created your account at our webstore. You only do this once.
Once done, the plugin will load as usual, with a couple of extra improvements and optimisations that we hope you like.
If you have any questions, concerns, or queries about this process, or if we have been unclear in any way, please do not hesitate to get in touch.
The links come in two options:
To our POS, home page and click on Register in the top right.
OR direct to the create an account page.
The Create Account page looks like this: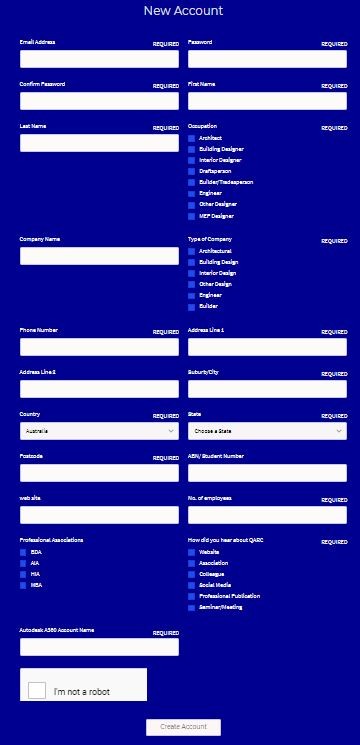 Cheers
Peter and QARC team